7 Guests
4 Bedrooms / 2 Bathrooms
1 Queen sized bed XL
5 Single beds
Terrace
The house stands on the ground in a way that is discreet, delicate, and respectful to the surroundings. A grid inspires its huge sloping roof that reveals a series of glass walls under its shelter.
The large roof covered in volcanic ash facilitates natural ventilation. The nocturnal part of the house is partially buried next to the basalt rock wall on which the roof rests. It has privileged views: the magnificent lounge-dining room invites you to lose yourself on the horizon and enjoy the sunrise in the sea and sunset in a volcanic cone.
*By booking on this page you are not booking this specific house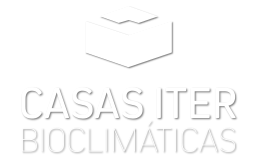 Instituto Tecnológico y de Energías Renovables, S.A. (ITER, S.A.)
Polígono industrial de Granadilla, s/n
38600 - Granadilla de Abona
Santa Cruz de Tenerife - España
+34 922 747 758
+34 922 747 700
casas.bioclimaticas@iter.es
Copyright © 2018 ITER S.A. All rights reserved.