4 Guests
3 Bedrooms / 1 Bathroom
1 Queen size bed XL
2 Single beds
Terrace, Garden & Pond
Two natural elements (sun and wind) have influenced the design of the house – its south facing layout and protection by burying the house partially in the hillside.
Its name indicates its basic characteristic – a stream that cuts through the house from the garden, crossing the hall and ending at a pool that borders the wooden sun terrace. From here you can see the sea, the volcano and enjoy the sunrise and sunset. The rooms, located in a semi-buried part of the house, guarantee low temperatures and tremendous peace. When you open the huge French windows, the garden, the lounge and the terrace create a unique, magical space.
*By booking on this page you are not booking this specific house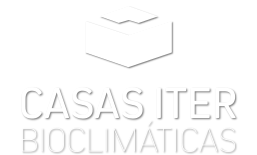 Instituto Tecnológico y de Energías
Renovables, S.A. (ITER, S.A.)
Polígono industrial de Granadilla, s/n
38600 - Granadilla de Abona
Santa Cruz de Tenerife - España
+34 922 747 758
+34 922 747 700
casas.bioclimaticas@iter.es