5 Guests
3 Bedrooms / 2 Bathrooms
1 Queen size bed
3 Single beds
Patio & Garden
The philosophy of the project centres on balancing the maximum optimization of costs with the comfort of its inhabitants. The name comes from the noticeable separation between day and night time uses.
The house has 2 clearly differentiated blocks that are connected by a landscaped patio: the day area and the night area which is semi-underground.
The complex is enclosed by a semicircular wall that protects it from the prevailing winds. The private patio, protected from onlookers, will be one of the preferred areas in the house. The materials used, including the furniture, are deliberately simple and are generally recycled.
*By booking on this page you are not booking this specific house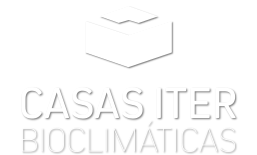 Instituto Tecnológico y de Energías
Renovables, S.A. (ITER, S.A.)
Polígono industrial de Granadilla, s/n
38600 - Granadilla de Abona
Santa Cruz de Tenerife - España
+34 922 747 758
+34 922 747 700
casas.bioclimaticas@iter.es